Question

Materials for containers
hannelore.sander

Topic Author
13 Feb 2018 15:31
#57574
by

hannelore.sander
I need to buy a number of small containers (1/4 to 1 oz) for all my liquids. I travel a lot. I am confused as to what materials to get since MMS (and CDS?) corrode things. What is the difference between LDPE, HDPE, PET, PVC, Glass, etc. Which ones are not good? Right now, I have many small brown glass bottles but they have dropper tops with rubber bulbs, and I have to take those off and use caps, which then don't have the proper dispensers. Is it ok to always use plastic? Do you know of a company that sells such containers in small companies. Thank you.
Please Log in or Create an account to join the conversation.
CLO2
14 Feb 2018 05:59
-
14 Feb 2018 06:14
#57580
by

CLO2
Glass should be the best. I have had HDPE bottles destroyed by MMS (22.4% sodium chlorite solution) in a few months time.
Those brown colored glass bottles should be excellent. Just find caps without droppers attached. It is safest to transport these chemicals in glass bottles with solid caps and double-bagged in case of leakage or breakage.
When you need to take out a dose, use a separate dropper cap, syringe or pipette. Make sure to label the droppers, syringes and pipettes so you don't cross contaminate any solutions.
If you rinse a dispenser very well, you can use just one dropper, syringe or pipette for all the different solutions. You can find plastic bottles with dispenser caps, but they can leak. Here are two types of caps I have successfully used.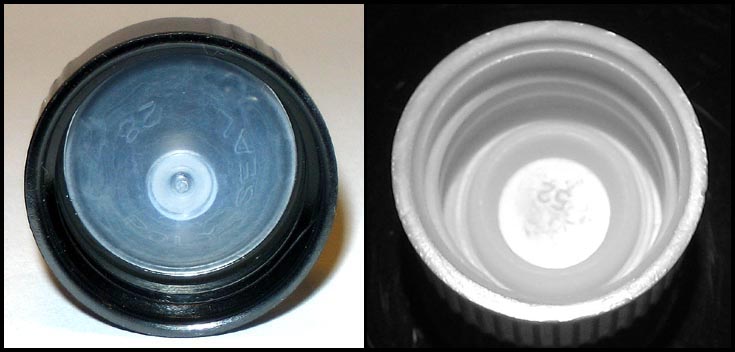 Last edit: 14 Feb 2018 06:14 by
CLO2
.
Please Log in or Create an account to join the conversation.
hannelore.sander

Topic Author
14 Feb 2018 21:19
#57586
by

hannelore.sander
Dear CLO2, would you mind very much googling a specific glass bottle with a dropper cap to see if it would be suitable, I.e., would the plastic insert hold up against MMS. I don't know how to attach a link to this request otherwise I would do so. It's a 5ml glass bottle with a European dropper cap. Comes in blue, green and amber, and many companies make it. It seems ideal for traveling and I would not have to carry extra dispensers with me.
Please Log in or Create an account to join the conversation.
CLO2
14 Feb 2018 22:53
#57590
by

CLO2
Here
is one sold by Amazon. They are meant for essential oil use. I have no idea what the dropper cap and dispenser are made from and could not find that info on the Amazon web page.
I looked at my glass essential oil bottles & caps and one cap looks like bakelite (black) which I know would not stand up to MMS. Another cap was also bakelite but had a white plastic insert that may resist MMS and CLO2.
You could try using them and see what happens to the plastic caps/dispensers.
Personally I would not use those, but instead find caps for glass bottles that will resist MMS and CLO2 and carry one small pipette.
Please Log in or Create an account to join the conversation.